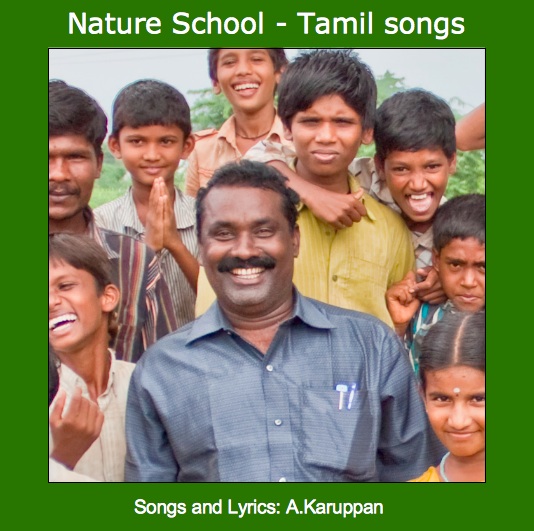 About the songs:
1. Without water – who can live?
Audio clip: Adobe Flash Player (version 9 or above) is required to play this audio clip. Download the latest version here. You also need to have JavaScript enabled in your browser.
The importance of water. We all use water – humans, animals, nature and we can not live without it.
2. Without trees – who can live?
Audio clip: Adobe Flash Player (version 9 or above) is required to play this audio clip. Download the latest version here. You also need to have JavaScript enabled in your browser.
Without trees there will be soil erosion and the water won't stay in the ground. That´s bad for the crops and no new trees will come – the land will become a desert.
3. Without oxygen and air – who can live?
Audio clip: Adobe Flash Player (version 9 or above) is required to play this audio clip. Download the latest version here. You also need to have JavaScript enabled in your browser.
Through our mouth we take in water, food and air. We do manage without food and water for a while, but we can not manage without air. Breathing is something we do all day and all night. Through photosynthesis the trees breathe in carbon dioxide and give us oxygen, therefor we depend on trees.
4. We have to stop polluting the water.
Audio clip: Adobe Flash Player (version 9 or above) is required to play this audio clip. Download the latest version here. You also need to have JavaScript enabled in your browser.
There is pollution coming from the factories and this dirties our water and the soil. This pollution we have to stop.
5. Our lives depend on water and soil.
Audio clip: Adobe Flash Player (version 9 or above) is required to play this audio clip. Download the latest version here. You also need to have JavaScript enabled in your browser.
We have to take care of water and soil. It is our basic needs for survival.
6. The importance of the "soak pit".
Audio clip: Adobe Flash Player (version 9 or above) is required to play this audio clip. Download the latest version here. You also need to have JavaScript enabled in your browser.
A soak pit is a hole that is filled with big and small stones that is kept near our houses. This helps the water from the waste to go into the ground. Only the waste stays on top. This helps to prevent diseases and keep mosquitos away.
7. We have to keep our water clean.
Audio clip: Adobe Flash Player (version 9 or above) is required to play this audio clip. Download the latest version here. You also need to have JavaScript enabled in your browser.
Like the village water tank, where it is important to close the lid so no dirt comes in, it is also important to close the lid on the water tank that people have in their houses. This is to prevent diseases.
8. Kadavakurichi – the mountain that we love! 
Audio clip: Adobe Flash Player (version 9 or above) is required to play this audio clip. Download the latest version here. You also need to have JavaScript enabled in your browser.
Before, humans cut down trees from the mountain. That created soil erosion and the water did not stay in the ground. People were suffering and many emigrated to other cities. Then the people that were left started to plant new trees and the nature started to recover. Today many people are returning to the mountain and can also concentrate on starting organic farming. The founding organisation Future Earth and Nabard has been a big help.
9. We are grateful for the wonderful nature around us! 
Audio clip: Adobe Flash Player (version 9 or above) is required to play this audio clip. Download the latest version here. You also need to have JavaScript enabled in your browser.
Birds, flowers, trees, fields, soil and air – they are all depended on each other and live in harmony. We are thankful for this biodiversity!
10. Thanks to all the people that help CIRHEP.
Audio clip: Adobe Flash Player (version 9 or above) is required to play this audio clip. Download the latest version here. You also need to have JavaScript enabled in your browser.